We are used to living in a linear economy: goods are made from raw materials, sold in as many quantities as possible, and ultimately thrown away. However, this model no longer works. Climate change is rapidly changing the business environment.
Minimizing the impact of business on our ecosystem is no longer a 'nice to have' but a business imperative. But for many businesses, it is not clear what they can do.
In this article, let's see how you can manage your office's IT assets so that these contribute to sustainable development.
In part I – we will answer the WHAT question
In part III – the HOW question
Feel free to navigate to PART III, if you already know what Carbon Footprint, Carbon Handprint, Circular Economy and ESG are.
I
THE "WHAT"?
The threats of climate change are the direct result of there being too much carbon dioxide in the atmosphere. So, it follows that we must stop emitting more and even remove some of it.
What is Carbon Footprint?
Carbon footprint is a widely accepted approach to make environmental commitment.
It's a single number that expresses the total amount of greenhouse gasses (expressed in carbon dioxide equivalents) generated by an individual, event, organization, product or service.
What is Carbon Handprint?
"Carbon Handprint", in contrast, refers to the positive environmental impact via avoided emissions.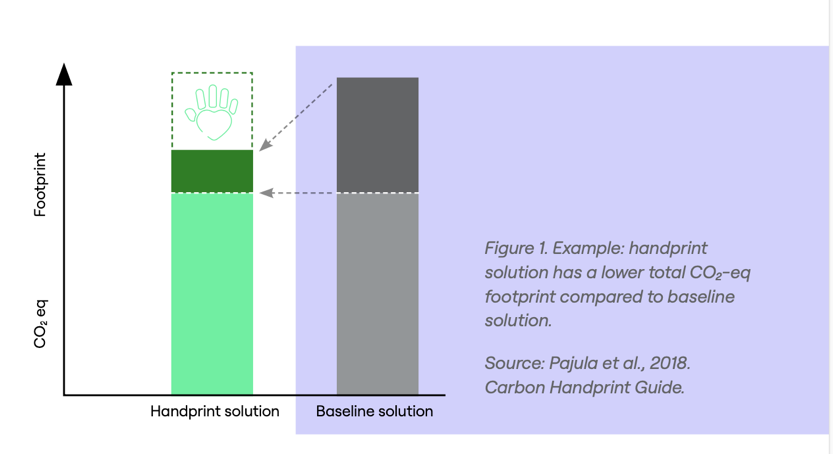 Organizations can achieve and communicate Positive Handprint by using products or services that avoid carbon emissions.
Or by providing products or services that help customers avoid carbon emissions.
What is Circular Economy?
The circular economy initiative is a drive to change our business models to minimize the consumption of finite resources.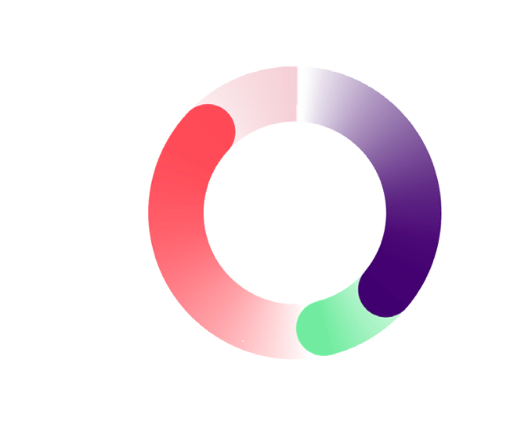 Products are shared.
Services are purchased, rather than goods.
Materials are reused several times over, and products are designed to be long-lasting.
One of the principles of circular economy is keeping products and materials in use.
In organizations, for example, maintaining, reusing and refurbishing existing equipment to give it a second (and third, fourth…) life.
Rather than throwing it away and buying a new replacement.
What is ESG?
Businesses have realized that it is impossible to develop without regard to the environment and the interests of people.
ESG describes how you do business and stands for 3 intertwined elements: environmental, social, governance.
1. Environmental
Every company uses energy and resources.
Your company affects, and is affected by, the environment.
2. Social
Every company also operates within a broader, diverse society.
Your company has to address the relationships you have with surrounding people, communities and institutions.
3. Governance
Every company, which is itself a legal creation, requires governance.
It is the system of practices your company adopts, in order to govern itself, make effective decisions, comply with the law, and meet the needs of external stakeholders.
II
THE "WHY"?
Why are these criteria and your company's score of the ESG so important?
The demands and expectations to mitigate climate change come from various stakeholders. Your workforce, your purchasers, investors, policy makers, the media.
Interest in sustainable responsible investments is growing rapidly both among institutional as well as private investors. Potential investors are increasingly interested in non-financial information about companies.
It makes financial sense: Investors and executives have realized that a strong ESG proposition links to value creation and can safeguard a company's long-term success.
Socially responsible companies have lower risks of workers' strikes and problems with the law.
(Remember 2015? German carmaker Volkswagen was accused of falsifying data on the harmful emissions of its cars. Immediately after that, the value of Volkswagen shares fell by 30%.)
Companies with low ESG scores will find it difficult to enter international markets and work with international regulators.
III
THE "HOW"?
So, what can you do to be thinking and acting on ESG in a proactive way?
Analyze the current state of your workplace
When most organizations think of the footprint of their workplace, they tend to focus on reducing waste generated by day-to-day operations.
Recycling schemes and energy-saving lighting systems are good things.
But there are other areas, where the opportunities to keep existing assets in use and reduce waste are even much more significant.
Circular economy principles can also be applied to IT equipment.
Environmental impact of ICT devices
One way to pay attention to your ESG is to check the CO2 footprint of the devices when purchasing your office equipment.
Smartphones, tablets and laptops quickly moved from the fringe of computing to the mainstream. In many cases, the environment benefited too, as energy efficient devices displaced older computers. But unfortunately, this isn't the whole story.
It's common for businesses to throw out devices that no longer work. Actually, these could be securely data-wiped, tested, reconfigured and repaired for reuse, resale or donation.
Smart devices are smart, but the physical systems, they end up in, are not:
Waste electrical and electronic equipment (e-waste) is the fastest growing waste stream in the world. The amount of e-waste generated in 2019 is equivalent to the weight of ~4,500 Eiffel towers.
In 2019, approximately 53.6 million tons (Mt) of e-waste was generated globally (resulting in an average of 7.3 kg/per capita). It is projected to exceed 74 Mt in 2030.
At the same time, only 17.4% of that waste was formally collected and recycled.
A one-year lifetime extension of all notebooks in the EU would save 1.6 Mt CO2e per year by 2030.
The refurbished computers & laptops market in Europe is anticipated to grow at a compound annual growth rate of ~12% from 2019 to 2027.
Source: Forti V., Baldé C.P., Kuehr R., Bel G. The Global E-waste Monitor 2020: Quantities, flows and the circular economy potential. (2020) United Nations University (UNU)/ United Nations Institute for Training and Research (UNITAR) – co-hosted SCYCLE Programme, International Telecommunication Union (ITU) & International Solid Waste Association (ISWA), Bonn/Geneva/Rotterdam.
Most devices can be redeemed and gifted a second, third and even fourth life after first usage.
A circular economy for smart devices would keep them in use for longer.
This brings significant environmental benefits.
The extension of the service life of ICT products has been identified as the key strategy to minimize the total environmental impact of ICT products.
How can we help you with your ESG goals?
We strive to be Europe's leading ESG enabler in the technology industry. The goal of our Recommerce business is to extend the total service life of ICT products.
"We make it easy to purchase IT equipment securely and compliantly, whilst maximizing the financial, environmental and social value of these assets."

Agnes Makk, CEO of Foxway Recommerce
We help you to:
reduce the need to buy new items
keep items in use for longer
ensure they are recycled responsibly when they truly reach their end-of-life
BUT…
WHAT DOES IT REALLY MEAN IN PRACTICE?
Circular workspace in numbers
Carbon footprint of a Foxway refurbished laptop from remanufacturing until it reaches the customer is just 6.65 kg CO2-eq. When you buy a refurbished laptop from us, instead of purchasing a brand-new laptop, you will avoid ~258 kg CO2-eq worth of emissions.
Source: Pajula, T., Vatanen, S., Pihkola, H, Grönman, K., Kasurinen, H., Soukka, R. Carbon Handprint Guide. (2018) VTT Technical Research Centre of Finland Ltd and LUT University.
The difference compared to a brand new one is remarkable.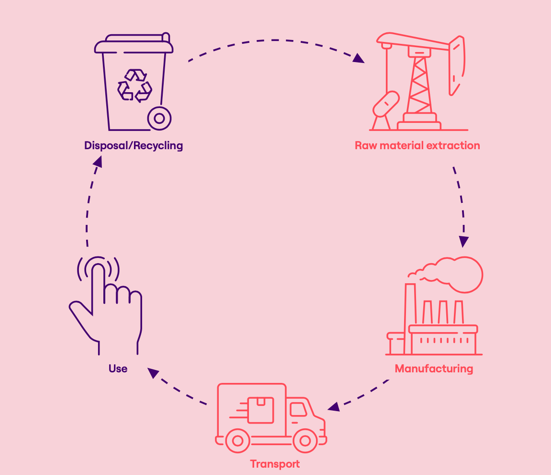 Positive trends
According to a 2019 report by the European Environmental Bureau, a 1-year lifetime extension of all notebooks in the EU would save 1.6 Mt CO2 per year by 2030, the equivalent of taking 870 000 cars off the roads.
Fortunately, European consumers are becoming more open to buying used electronics, especially as home offices and e-schooling have become more prominent.
Source: Deutsche Welle (DW). Can the pandemic help us embrace refurbished electronics? (2020) https://www.dw.com/en/can-the-pandemic-help-us-to-embrace-refurbished-electronics/a-53741181
Leading by Example
Being climate neutral is the new minimum standard for Corporate Responsibility. Our own Carbon Handprint demonstrates a significant avoidance of carbon emissions. We in Foxway refurbished 38 570 laptops in one year – and avoided greenhouse gas emissions to over 9.96 M kg CO2-eq
We strive to be carbon neutral by 2023 (as defined by the Greenhouse Gas Protocol), and work towards carbon neutrality across our value chain by 2030.
"We want to make your IT services easy and sustainable. Letting you focus on what you do best. It's our way to make a positive change in society. In that way we are saving time, money and the environment at the same time."

Agnes Makk, CEO of Foxway Recommerce
Meeting the needs of organizations of all sizes
This circular approach can be adopted by organizations of all sizes as our experience has shown. See our case studies.
"We are large enough to help our global customers, but also flexible enough to meet the local companies' needs."

Agnes Makk, CEO of Foxway Recommerce
ESG pronouncements seem too vague to be of much use?
We agree, that  "Save the planet" probably won't cut it …
Get specific!
And get your C-suite on board
Those designing and managing the workplace won't achieve the financial, environmental and social outcomes alone – it requires the engagement of the whole company as well as suppliers and contractors.
To adopt circularity as the new way of life, your business needs a full commitment and buy-in from the top. A change on this scale requires vision and leadership as much as new policies and processes. Changing attitudes is as crucial as ensuring compliance.
To get everyone on board, make the case that your company's ESG priorities do link to value, and show leaders how, ideally with hard metrics that feed into the business model.
We can help you with that.
Let's drive change in your organization and the supply chain.
Start building a circular office with us!
Benefit from our easy-to-use portal when buying back any electronic device from your consumers.
Electronic Asset Management ICT-devices Circular Workspace Solutions Sustainability Life Cycle Management