Do you have periodic overstock, demo units, leasing returns or irregular batches of an open box, used or damaged electronics? Need a solution to your supply chain fluctuations and unused IT devices? If you are looking for a long-term partner to recover value, securely remove data and dispose of your equipment in a responsible and sustainable manner, then you're in the right place to address your questions and start exploring cooperation opportunities.
"We started with sourcing and procurement of used electronic devices. But today, we are more and more service-oriented. We provide value with our tailor-made concepts and sustainable solutions and by fostering relationships with our partners and customers."

Christopher Homenja, Head of EAM Channel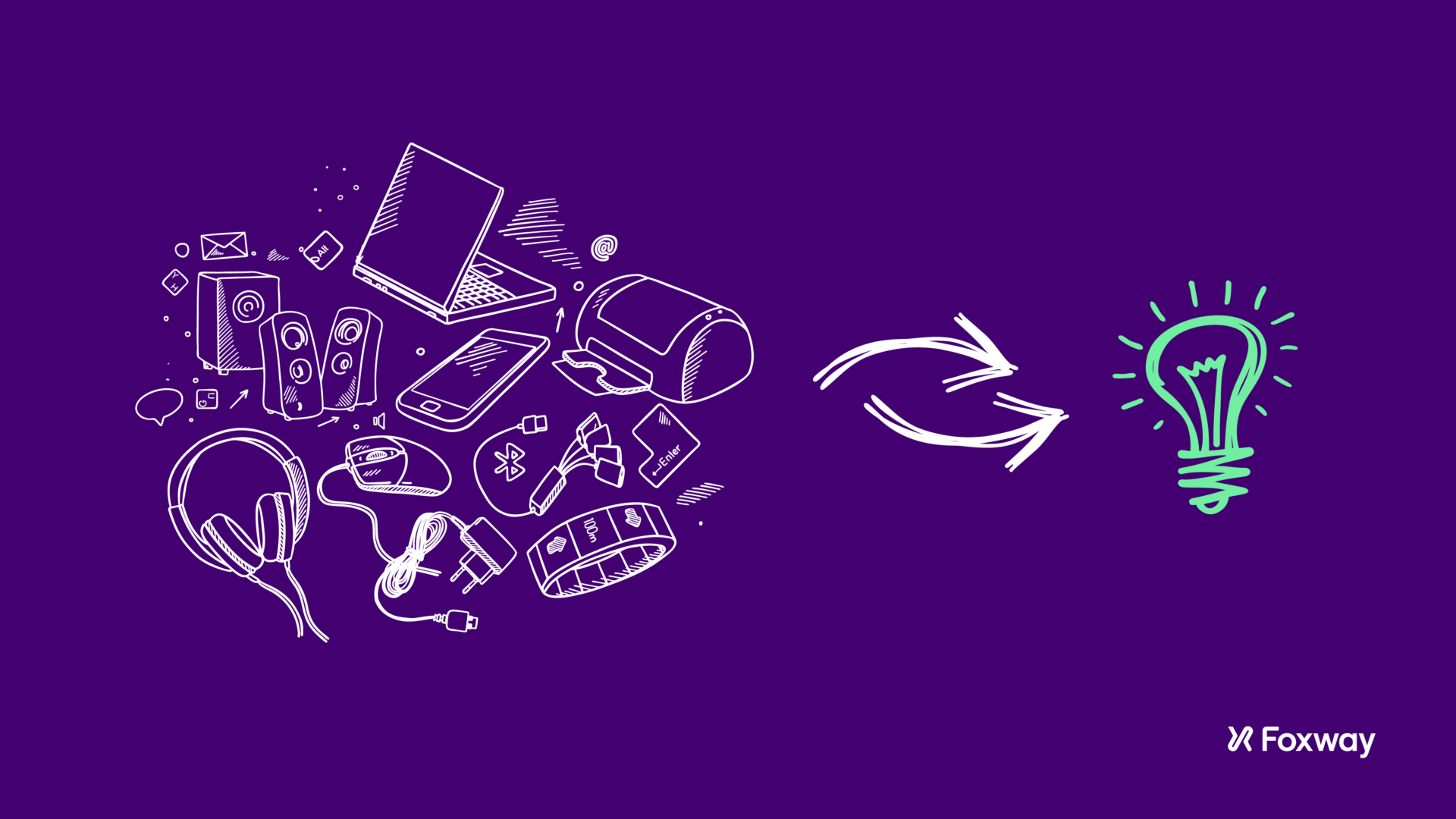 Our Electronic Asset Management approach
End-of-life is not end-of-use
Electronic devices reach their end-of-life (EOL) once they can no longer be used in the intended function. These products are at the end of their lifecycle and need to be recycled properly.
End-of-life management should not be mistaken for end-of-use ICT equipment. When equipment has no user, we should not assume that it is in poor operational condition or has become obsolete. It is often possible to extend its life through use for the same purposes by other users, reused (in part or whole) for other purposes, or recycled.
EOL
End-of-life management of ICT equipment entails different processes such as how to recover value, securely remove data and dispose of the equipment in a responsible and sustainable manner.
EAM
Additionally, our Electronic Asset Management service also entails managing excess stock from over-orders, sales variability or supply chain fluctuations.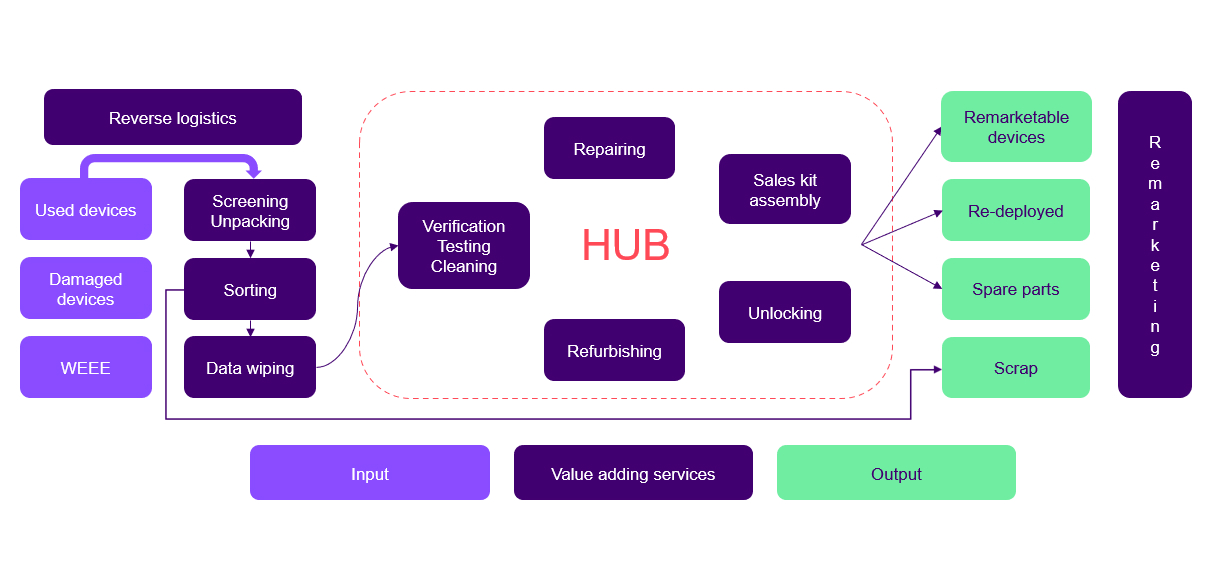 Every device goes through rigorous testing and a full data wipe. We'll recover as much value as possible. Repairing and refurbishing what we can. Any output is allocated accordingly. Some are sent to experts for recycling and component reuse. Most devices live a second life thanks to our remarketing partners.
Why Foxway?
Holistic
We propose a competitive price and a comprehensive and holistic approach to the disposal of overstock or retired assets. We buy your used or damaged or end-of-life devices and accessories to screen, sort, and test them, perform a full data wipe, and repair as much as possible.
Electronic asset and end-of-life management are about sticking to good quality processes regarding asset management, information management, reverse logistics, dismantling, refurbishing, reuse, recycling and recovery.
If you do this well, you will also meet corporate responsibilities while acting as efficiently as possible in the context of business performance.
Reliable
Customers choose Foxway for stability and reliability and our extensive experience and competence (regulations, audits etc).
Proactive
It is easier to re-sell hardware assets for a greater financial return if we take steps early in the End-of-life processes rather than later. Our team will ascertain the remaining value in your inventory and ensure the maximum return on investments.
Convenient
We manage our partners' assets and waste streams directly. We are flexible and fast. We are Service thinkers. Our advantage is an individual approach to each of our clients. For example, we remove the uncertainty around the logistics and provide mobilization of items.
"During COVID-19 restrictions we even picked up devices from end-users' homes on behalf of our client – a smartphone leasing company," Christopher Homenja recalls.
Compliant
Our partners outsource this part of their supply chain from us together with its attendant regulatory burdens.
Certified data wipe. Ensuring data sanitation is a core priority of our service. Every device we process receives a complete data wipe in compliance with international standards.
Compliance with Environmental standards. We receive, process and resupply electronic waste in compliance with the EU Waste Electrical and Electronic Equipment Directive (WEEE).
GDPR & ISO compliance.
Microsoft authorized refurbisher.
Extra benefits
Future Price Commitment
Our unique program guaranteeing future trade-in value is allowing you to return devices after a set time frame (it may be 12, 24 or 36 months) for the agreed value.
Easiest Device Buyback Platform
Benefit from our easy-to-use portal when buying back any electronic device from your consumers. Our retail buyback solutions allow you to be one of the trade-in points, collecting used electronic devices from end-users.
Quote Builder Tool for B2B Sales Department
A white label portal for buyback quotes helps to enhance your organization's corporate sales. The online tool provides live buyback prices 24/7 and helps to keep track of your existing buybacks.
We help to deliver your sustainability goals
Smart management of your overstock and EOL assets leads to competitive business opportunities but also helps to fulfill your duty to society and the environment. Achieving your sustainability goals is tied to understanding both the planning and execution of demand, supply, and logistics across your entire trading partner ecosystem. The core sustainability capability then lies in your ability to collaborate and reclaim sustainability-related value within your full supply chain – manufacture, transport, reuse, refurbishment, recycling, and disposal of ICT equipment.
With our service-based offer, we can help you with setting and achieving SMART, clear and specific sustainability goals as we will provide you with the exact numbers of carbon dioxide you helped to save. Our detailed and holistic reports are a significant tool for your environmental communication and fulfill organizations' accountability regarding the environmental burden.
Foxway provides comprehensive large-scale recycling and IT Asset Management services for:
Electronics wholesalers, distributors,
Electronics insurance, leasing and repair companies,
as well as Electronics waste management companies.
Contact Christopher to find out how we can help you with your electronic refurbishment today.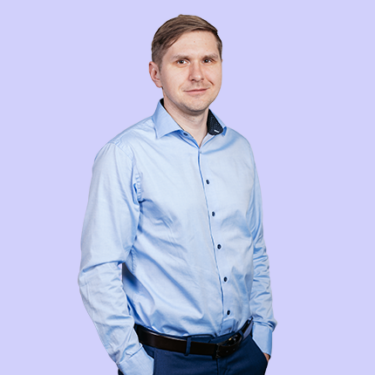 Christopher Homenja
Head of EAM channel
Recommerce Electronic Asset Management ICT-devices Life Cycle Management