On September 29th, we co-hosted a webinar together with Universal Avenue to present a new solution for computers, tablets, mobile phones and even home offices for businesses. A new way of thinking that's targeting both public and private sectors.
In short, "Your Choice" is a service that lets employees themselves choose the computer or mobile phone that works best for them. Let's use an example.

Let's say you're about to invest in new mobile phones for your employees. Most of them will get an iPhone 11 Pro Max or Galaxy Note20, right? Probably, but we think you (businesses/municipalities/regions) should be able to set a monthly cost for the mobile phone you think is needed for the job. And should the employee still want the upgrade, they can pay the difference with their salaries. As soon as the lease is over, you or the employee can buy the mobile phone for its current market value. And let us recycle it to give money back to use for your new mobile phones. That's how circular economy should work.

On top of getting your circular economy going, you'll also take control over all your assets, like tablets, mobile phones, computers and home offices. You set the costs for your standards On of getting a circular economy going, you'll also get full control over your devices. You decide the standard, while the employee can decide the upgrades. Making everyone happier with their choice.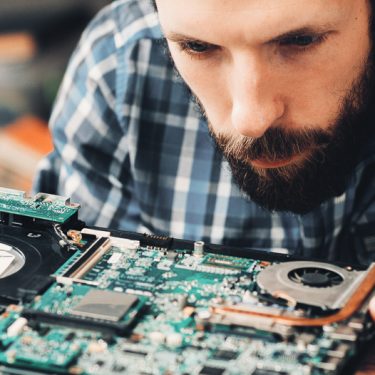 There's a lot happening between the day you invest in new hardware and the day it has finally served its purpose and is ready for hardware heaven.
Learn more
Enterprise