There is no way around the used devices, when the core or part of your business is electronics retail. It's about time to think about a trade-in program through the lens of circular economy. You benefit, your customer benefits, and so does the planet.
How to get started? And what are the benefits?
Let's go through these questions in 5 steps.
STEP 1: Offer a streamlined retail and online trade-in experience
Consumers are often discouraged by a previous trade-in experience. Inconsistent pricing, subjective and opaque device valuation, inadequate or non-existent multichannel access, and inaccurate trade-in quotes all contribute to a poor customer experience.
Our trade-in process is streamlined from start to finish and works to make sure that there are no obstacles throughout the process.
Even if there is only a small economic value, the experience may be positive, drive customer satisfaction and build loyalty.
STEP 2: Give your clients a reason to upgrade their old devices
Many Mobile Network Operators (MNOs) and retailers run trade-in and upgrade programs, and these incentives are clearly working. Upgrade program users have a higher tendency to go back to the same store and bring back the device.
They get a new device, and we get the device back, making sure the device is recycled.
That's a win-win.
An increasing number of consumers are also making their trade-ins online. For additional trade-in convenience, some retailers have enabled capabilities like 'take home – trade later', which allows consumers to purchase a device in-store and trade in their older devices from home later.
STEP 3: Mobilize consumers to trade-in their used electronics
Consumers spend personal resources (e.g., effort, time, and money) while returning devices. The trade-in values do not always weigh them up. But financial attributions are not the only thing that determines the disposal of end-of-life devices.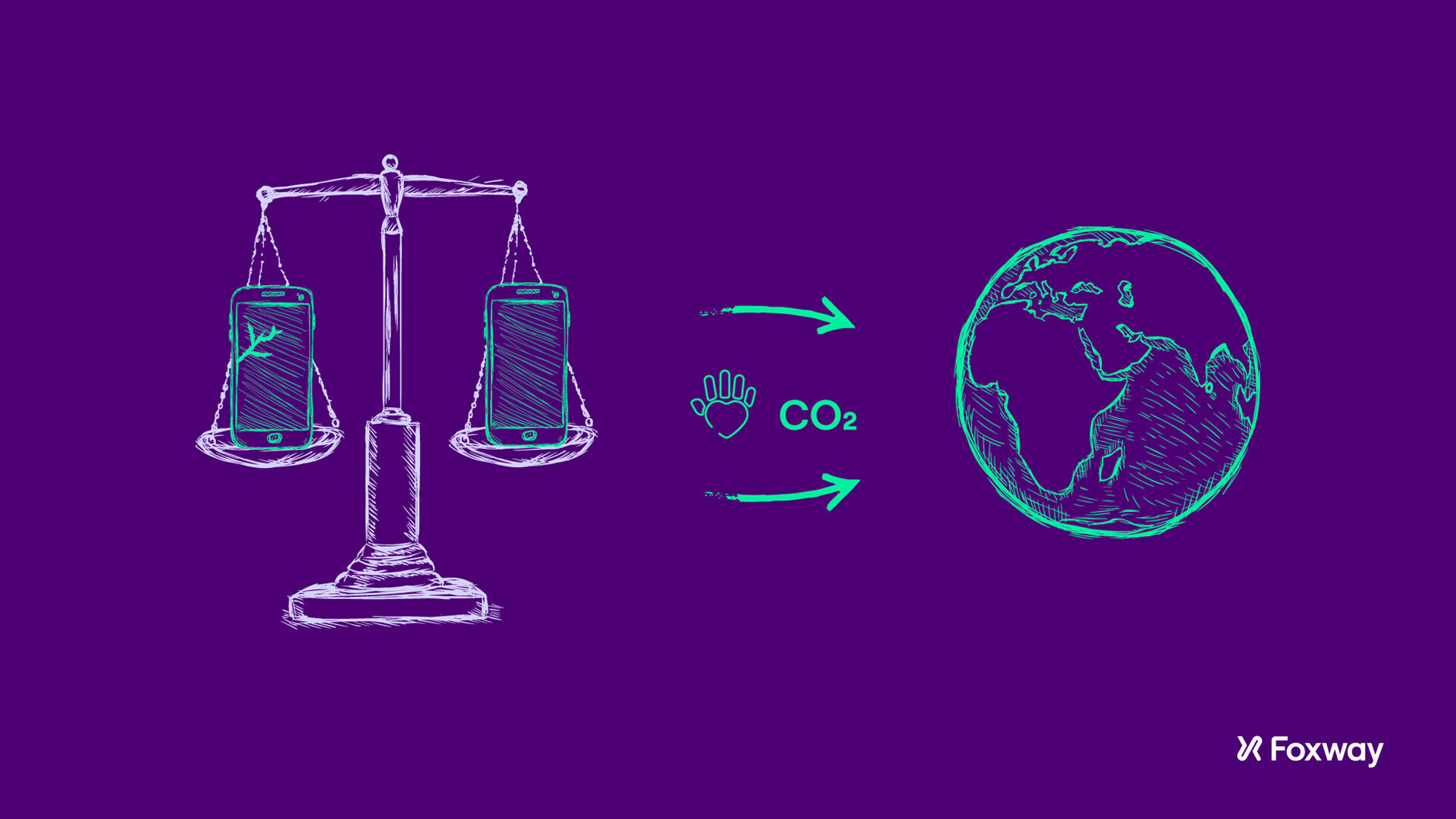 The value of the returned device is not just monetary. Responsible recycling and saving CO2 are additional incentives for consumers to think about returning a device.
Businesses are all about creating value and it's related to much more than just price. No matter the residual value of the device, the CO2 impact remains. A smartphone model has the same positive handprint upon trade-in, regardless of the condition.
From a circular economy perspective, it's always worth sending used devices back.
STEP 4: Incorporate CO2 impact into your trade-in branding
Business carbon footprint demonstrates how your business measures up in the realm of environmental protection. Many people actively want to be environmentally responsible, and brands that go the extra mile to help them will set themselves apart from competitors who can't or won't do the same.
Adopting CO2 numbers into your goals will help your brand clarify what it wants to be known for and how to package and share that message with audiences.
Foxway provides sustainability reports and which makes your communication easy. It's the cooperation in all these different areas from processes to marketing, that creates impact.
Read further on how one of our key partners alters the future by creating value through a sustainable used device trade-in solution.
STEP 5: Get involved and raise awareness about circular choices
Sustainability and Eco-consciousness have become part of today's consumer mentality. When it comes to e-waste, however, there's a knowledge gap that makes tackling the problem tricky. E-waste is the fastest growing waste stream in the EU and less than 40% is recycled.
According to GWI report, in 9 key markets, more than 8 in 10 consumers have heard the term "e-waste" – but a third don't know what it means, and 18% aren't aware of the term. But the lack of awareness doesn't necessarily mean consumers don't care. Increasing awareness is the vital first step to making change happen.
The first step for you is to get involved in this process – just get started with the process of recycling laptops, mobiles and other electronic devices.
We assure you that customers will follow.
This is due to the cost-saving benefits for customers and the potential to reduce their carbon footprint.
How do we accelerate your speed to impact?
We build trade-in programs for Mobile Network Operators as well as retailers and small businesses. You can benefit from our easy-to-use portal when buying back any electronic device from your consumers.
The implementation is quick and ready to go within a few weeks.
We can help and assist with training.
We also deliver packing material and help to organize shipping.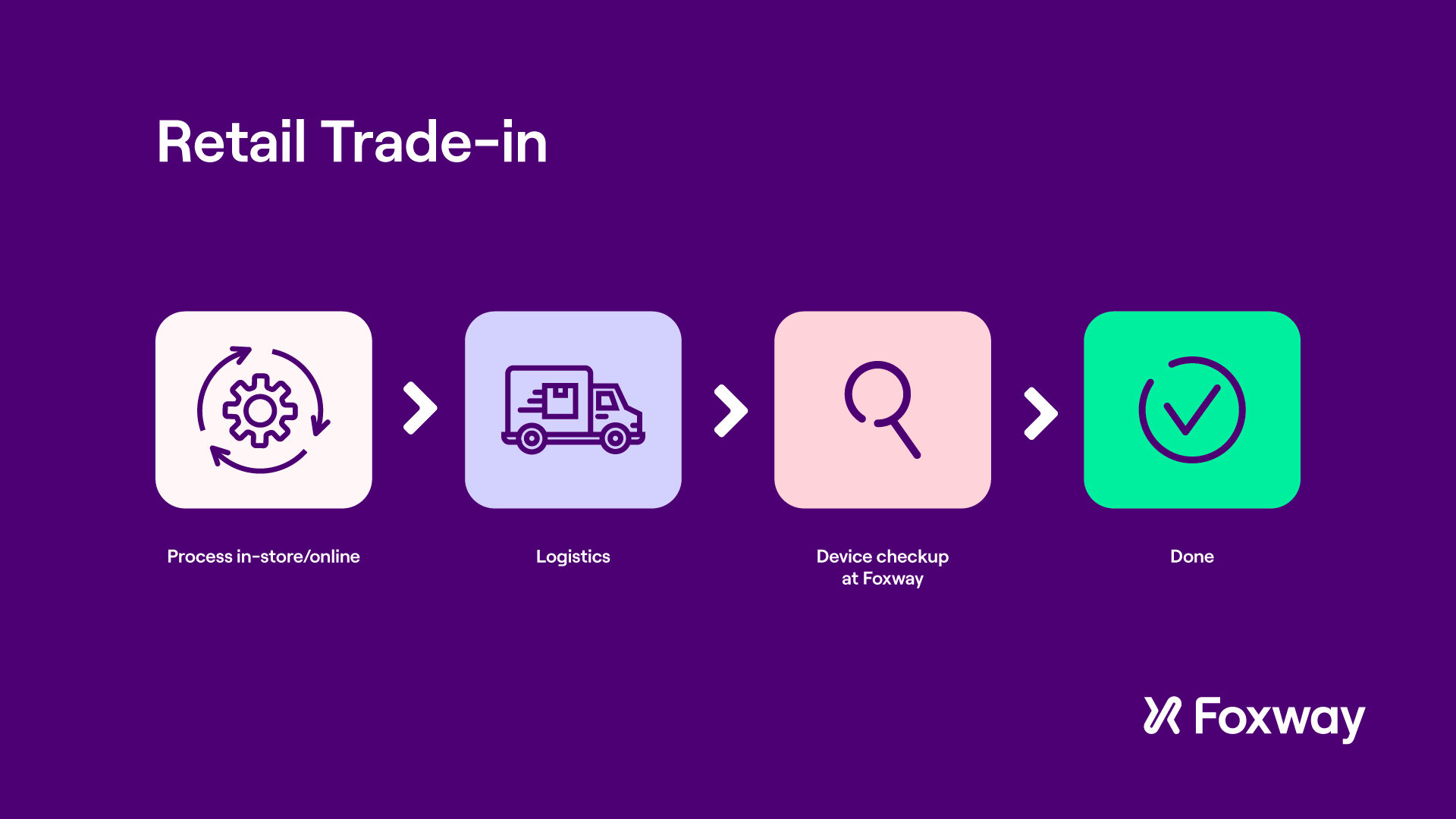 This is our process for handling end-of-life equipment:
Devices are sent to our main processing facility in Estonia.
Data are wiped permanently, and a certificate is provided for each device.
Parts that can be repaired and reused are given new life.
Valuable materials are extracted for reuse.
Ready to get started?
Used electronics and end-of-life devices are resources not waste. Together we can double the successes with a win-win that's good for the planet, consumers and our businesses.
Recommerce Retail & Online Buyback Buyback Trade-in-value