Foxway's new operations and warehouse facility is a pioneer in sustainable buildings. The 6,500 square meter facility has an energy efficiency score of A and targets net zero operations.
Its sustainable features include solar panels and an automated lighting system. The benefits of sustainable buildings go beyond only energy savings.
Why sustainable building matters
Buildings are one of the largest carbon dioxide emitters. Collectively, buildings in the EU are responsible for 40% of our energy consumption and 36% of greenhouse gas emissions. Hence, building energy efficiency is crucial to achieving carbon neutrality goals.
Reducing CO2 emissions starts with finding ways to generate electricity from renewable energy sources. Additionally, it's important to optimize energy consumption within the building.
Foxway's facility employs design principles that account for Nordic climates. We work together with local municipalities and respect the building's location in residential areas. Hence, the renewable energy of choice is a grid-tied solar system.
Altogether, there are over 1,200 solar panels generating electricity for the facility. This system also powers the electric vehicle charging stations in the building's parking lot. On a sunny day, the solar system provides more electricity than the building consumes. The excess power gets exported into the utility grid.
Intelligent lighting and efficient heating solutions
Lighting is one of the most significant energy burdens in operations units. This building houses a Digital Addressable Lighting Interface (DALI) for controlled energy efficiency. The DALI system runs on automation based on sensors checking for motion or the amount of daylight in the room. Hence, the light turns on only when and where needed.
Heating is another significant contributor to energy consumption. According to options available in Estonia, the most sustainable is geothermal heating. Besides an automated lighting system, the entire indoor climate can be monitored and adjusted. For example, ceiling fans help regulate the temperature and circulate the air in the room.
Workflow efficiency and future automation
Sustainable buildings are only one part of the story.
Foxway's device processing volume is growing around 30% every year. Continuous warehouse expansion is not the long-term solution. We're working on more efficient operations and thus supporting more sustainable growth.
"Foxway has flourished over recent years. These new premises are necessary to support our growth. We want to strengthen our focus on sustainability, and we are proud to realize sustainable and CO2-neutral facilities."

Agnes Makk, Head of Recommerce at Foxway
The facility is ready to foster automation in the future. Optimization and automation will support the increasing demand for circular solutions.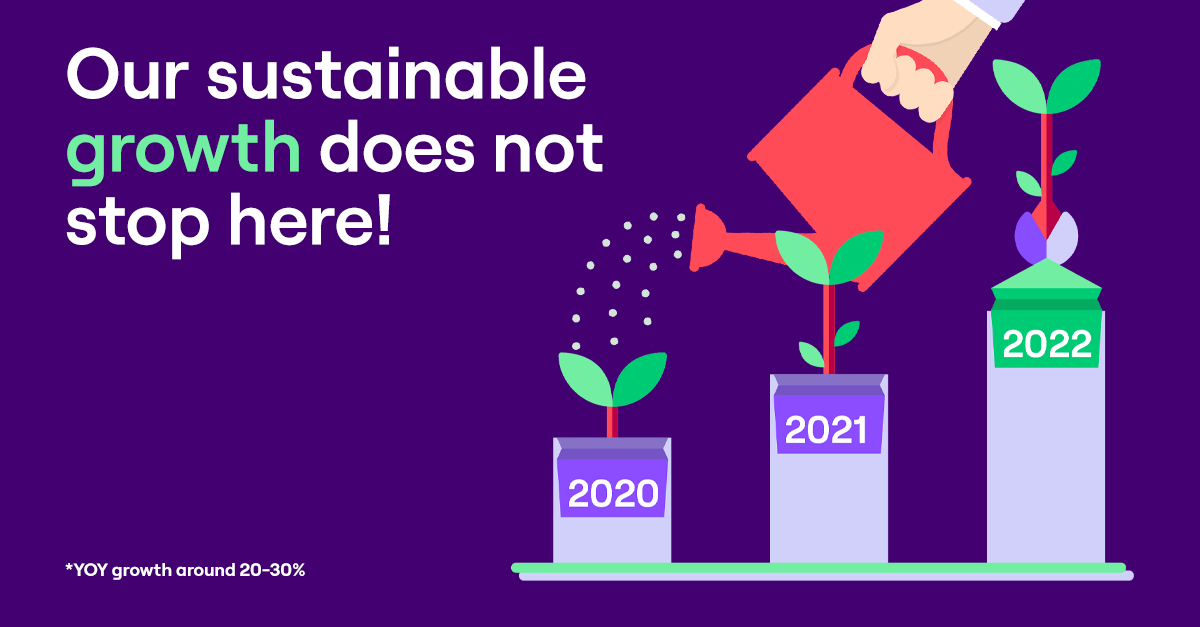 Socially inclusive design
For Foxway, sustainability is more than conserving natural resources. It also concerns retaining the health and well-being of our employees. A few examples how the building maintains employee well-being:
Common areas include a spacious dining room and lounges.
The technologies ensure employees work in well-lit and ventilated conditions.
The open-plan layout allows for a functional interior, keeping the space comfortable to use and easing workflow.
Investing in sustainable growth includes providing a decent working environment. We can only expect a seamless workflow when accommodating to well-rounded employee satisfaction.
Sustainable investments pay off
Sustainable buildings blend into the environment.
The construction supports maximizing energy efficiency with optimized heat transmission and air circulation. Thus, the facility is close to net zero, deserving the score of A in energy efficiency.
As with any sustainability initiative, net zero building requires investment. In our case, the initial investment into the facility was 6 million euros. And we're estimating the solar energy solution alone to return on investment within three years.
We're glad that the local government sees a vibrant future for the area and is investing in infrastructure to support development. Thus, bringing positive economic and social effects in return.
Recommerce Sustainability