In these digital times, it's no secret that less and less meetings happen face to face. All the processes in a company have been affected by new technology and globalization. Same thing goes for how we do meetings.

With technology developing so fast, especially real-time communication, we see more and more companies use video conferences as their daily communication tool. Global companies with offices all over the world can really see the benefits of video conferences. Despite this, a lot of them don't have the technology needed for a smooth video meeting. If you want to improve the conditions for a good video meeting, you should read these six benefits.
1. Increased productivity and efficiency
By eliminating the need to travel for a meeting, you can now have a meeting at any time, and anywhere. That way meetings no longer take up a bunch of time from our calendars. You get more time for other things when you avoid all the logistics of a physical meeting.
2. More flexibility
Video meetings lets participants be on the move, or take a meeting while working from another location. A computer, tablet or mobile phone is enough to have a meeting. As long as they have a microphone. That, and a good internet connection.
3. More efficient communication
Unlike regular phone calls and other types of audio conversations, video conferencing
gives participants the opportunity to take part in the non-verbal communication, such as body language and facial expressions. Non-verbal communication is said to account for up to 70% of a conversation, which is why video conferencing should be the preferred alternative to regular phone calls. In addition, participants have the opportunity to show things through screen sharing or simply show something that the team needs to see.
4. Making flexible offices possible
Your meetings don't have to be strictly business either. Video conferencing enables remote interviews, trainings and team chats. It's a great tool for businesses that's got a lot of employees spread out, or thinking about hiring people remotely.
5. Save time and money
The real benefits of video conferencing include lower business travel costs, less time for meetings and more productive communication between all participants. All you need is to connect yourself with a device and get started. Sure, there are some small costs for electricity and web conferencing services, but that's all. Cutting traveling costs is probably the strongest argument for convincing companies to make the switch to video conferencing.
6. Contribute to a more sustainable environment
Most people agree that traveling has a negative effect on climate change. By parking the car or skipping the flight, you and your colleagues contribute to a more sustainable environment. A video meeting contributes with minimal emissions, regardless of whether the meeting is held with someone in the neighboring municipality or the neighboring continent.

The majority of companies using video conferencing experience many advantages over having to book physical meetings. While projects managers experience their projects are completed quicker, that more details have been discussed with the team and that colleagues are easier to reach. Video conferencing is an effective tool for real-time communication that enables participants to collaborate in a productive and convenient way without having to be in the same room!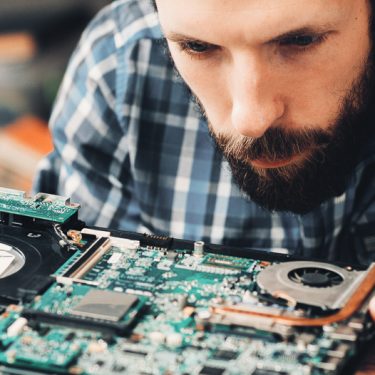 There's a lot happening between the day you invest in new hardware and the day it has finally served its purpose and is ready for hardware heaven.
Learn more
Enterprise