By using the Sale & Leaseback service, companies can unlock valuable capital that could be needed to secure liquidity. One of the many advantages of this concept is that companies can free up money that was tied to units before.
In times like these, we're extra happy to be able to offer these beneficial solutions where we give companies the opportunity to sell and replace IT equipment through a monthly lease.

A more sustainable IT management is key to the circular economy that so many companies are striving for today. And as a result, it's becoming more and more popular that companies seek out flexible and sustainable IT solutions that can be adapted to their needs, without having to tie up any unnecessary capital. All while the demand for simplified budgets for IT with monthly payments is increasing.

The Sale & Leaseback service meets both of these needs. It involves solutions that lets companies sell IT equipment and replace what they need with leased equipment. One of the biggest advantages is that it helps companies to free up capital that can be used in the short term and set aside future investments at the same time.

Right now, a lot of companies are facing major challenges as they have fixed costs such as real estate costs and salaries, while revenues are drastically being reduced. Because of that, it's important for companies to be able to sell and lease their IT equipment in order to get back capital they need in the near future
Leasing IT equipment has a lot of benefits
The service Sale & Leaseback is part of what Foxway Finance can offer companies to help them with sustainable financing. The main purpose is to help customers create and administrate a simple, transparent and economically beneficial leasing agreement for IT devices, such as mobile phones, computers, screens, printers and so on. In addition to the possibility of avoiding tying up valuable capital, there are several strong reasons why companies are recommended to lease their IT equipment:
Control over assets
A clear overview of the devices through an asset register. A lot of companies are unware of how many unused devices they actually own, which generates a lot of unnecessary costs.
Financial control
Companies only pay for the IT devices that they actually use.
Security control
IT devices contain sensitive data. By taking care of these devices, and deleting the necessary data, you reduce the risk of information falling into the wrong hands.
The service Sale & Leaseback is aimed at companies with 1000 employees or more. Customers are offered a free invoicing service that enables invoicing either at top or detailed level, such as users and cost center. We are very positive to more and more customers signing up to this service, so that we can help them strengthen their liquidity.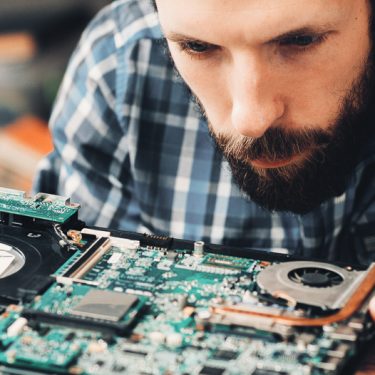 There's a lot happening between the day you invest in new hardware and the day it has finally served its purpose and is ready for hardware heaven.
Learn more
Enterprise Finance